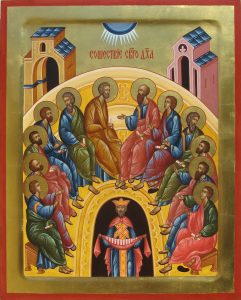 The Saint Nicholas Parish Council is responsible for the day-to-day operation of the parish and its ministries.
Parish Council meetings are regularly scheduled for the 1st Wednesday of each month, at 7:00 PM in the Church Fellowship Hall. Any member of the parish is welcome to attend.
At St Nicholas, the Parish Council membership consists of 11 people selected as follows:
The Pastor;
3 Members Appointed by the pastor for staggered three-year terms;
3 Members Elected by the parish for staggered three-year terms;
3 Ex Officio Members Appointment by the pastor as leaders of the permanent ministries of Christian Education, Choir, and Treasurer;
1 Ex Officio Member Elected as President of the Women's Ministry;
The Annual Church Community Meeting meets the Last Sunday each January, and elects a new parish council member. The Parish Council, after each annual convocation, elects the Chairman, Vice Chairman, and Secretary from among the Parish Council Membership.
All members of the Parish Council are voting members, with the exception of the Chairman, who never votes, except at the Chairman's option as a "tie breaker" for a question to pass/fail.