St Nicholas Bookstore tries to offer valuable books for Children, Inquires, Converts, and "Cradle" Orthodox Christians alike. We also carry home devotional supplies and a diverse array of other useful items at or near cost. We also carry a wide variety of small booklets on common topics and questions from our visitors.
Come browse through everything after services or just the Books Online. New items arrive frequently. If we don't have what you are looking for ask if we can get it for you in our next order.
---
St. Nicholas Church Library seeks to provide the means for parishioners to grow in their Christian faith by making Orthodox reading and listening materials available for checkout in the format of books, CD's, and DVD's to promote learning.
Our library is currently a very small collection spiritual books. Our Library Online is outdated but we are currently working on updating this.
Library categories include such topics as saints, monastics, prayer, parenting and family life, journeys into Orthodoxy, Medicine and Psychology, social issues, feast days, sacraments, Orthodox Theology, and creeds and worship. We also plan to build a reference-only section of rare or out-of-print books. Books from this section will not be permitted to leave St. Nicholas Church.
Items can be checked out for one (1) month; with renewals as needed.
Please consider donating Orthodox books, CDs, and Videos to the Library so that others can share in the wealth and depth of Orthodox Church. All book donations will be reviewed and approved by our parish priest and by our library manager.
---
Further Up & Further In
For more in depth resources, check out these online libraries, blogs, stores, and educational sites.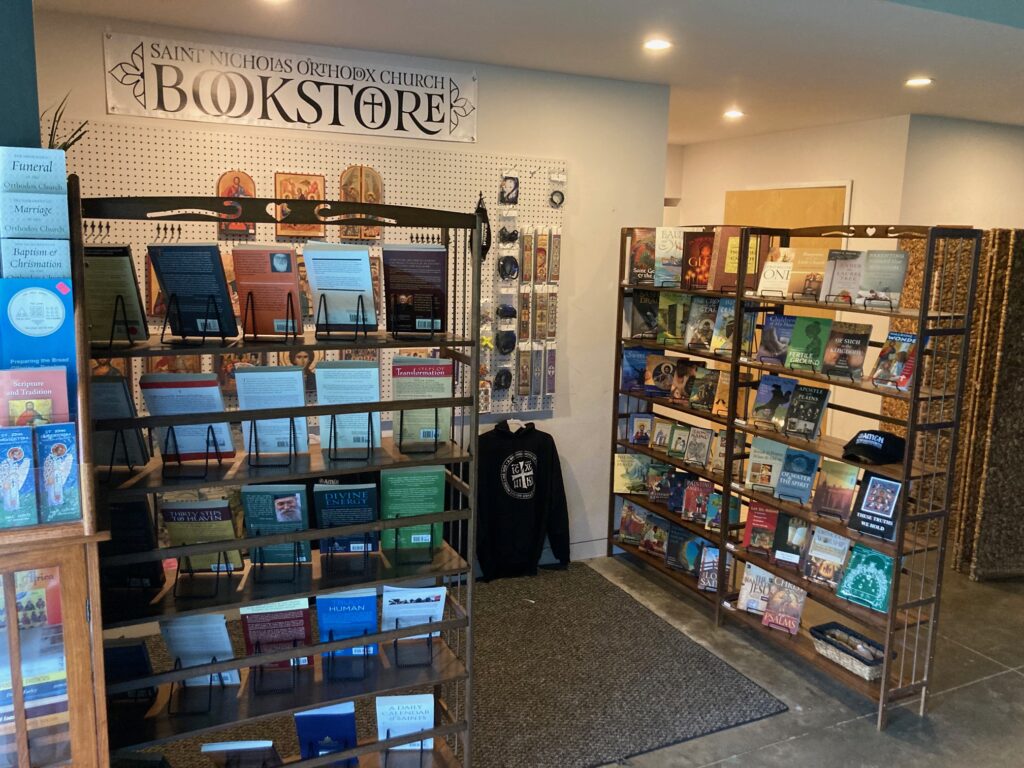 Ancient Faith Radio
Online audio and video programming, including two 24-hour internet-based Orthodox radio stations, live call-in programs, and an extensive list of downloadable Orthodox content.
Ancient Faith Store
Books, translations, booklets, brochures, icons, greeting cards, calendars, liturgical items, gifts, jewelry, music, and more.
Ancient Faith Blogs
A hand-selected group of writers and thinkers regularly post on matters of theology, culture, art, parish, and family life.
Orthodox Christian e-Books
An Orthodox Library at your fingertips: many topics, many authors, many publishers
Eastern Christian Supply Company
Your business will benefit various monastic and religious institutions from which we purchase as much of our stock as possible.
English Translations of the Bible
If one wishes to study the Scriptures, one of the most important things that he must do is to acquire a good translation of the text…
St. Paisius Monastery Gift Shop
handcrafted prayer ropes made by the sisters, Orthodox Christian prayer booklets and spiritual literature, CDs, prayer rings, and more.
Dynamic Horologion & Psalter
provides dynamic access to an Orthodox Horologion and Psalter
Orthodox Wiki
free-content encyclopedia and information center for Orthodox Christianity that anyone can edit
Or visit an Orthodox Church in your area.
---