With God's help, we are working to build a parish Lending Library for the edification of our community.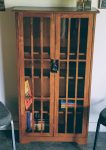 The St Nicholas Lending Library is one significant part of the Discipleship Ministry of the Orthodox Church, with the great objective of deification—by God's grace and with our cooperation—or every person.
The library's longevity will be achieved with the support and blessings of our parish priest and parish council by 1) keeping it Small, 2) Simple, and 3) Spiritual. To that end, ALL materials in this Lending Library are explicitly approved by the parish priest.
This online list is provided for online reference only.
To check out items you must see Jeremy Lourie who has the ONLY key. The physical library is currently in the Church Fellowship Hall across from the Bookstore in a Locked Oak Bookshelf. He will happily unlock it for browsing and checkouts.  Lendinging is limited to a 1 month period. Borrowers will be reminded of the return date. When items are 1 month overdue, borrower will be invoiced for acquisition cost.