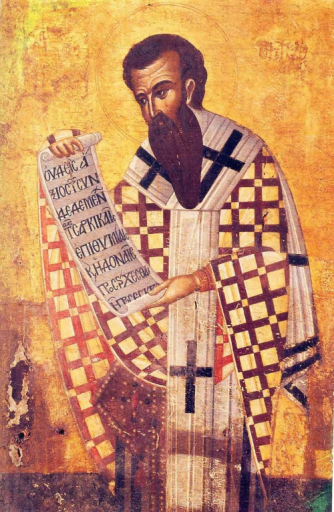 On January 1 the Orthodox Church commemorates Saint Basil the Great, Archbishop of Caesarea in Cappadocia. In its services, the Church calls St Basil a "bee of the Church of Christ": bringing the honey of divinely-inspired wisdom to the faithful & stinging the uprisings of heresy.
41 Quotes, Phrases, & Teachings
of St Basil the Great
Basil was born in Cappadocia to a wealthy and prominent family. Their worldly wealth, however, is as nothing compared to the wealth of Saints that they have given to the Church: his parents St Basil the Elder and St Emmelia; his sister St Macrina (July 19), the spiritual head of the family; and his brothers St Gregory of Nyssa (January 10), and St Peter, future bishop of Sebaste (January 9).
Inspired and tutored by his father, a renowned professor of rhetoric, the brilliant Basil set out to master the secular learning and arts of his day under the sophist Libanius in Constantinople. Then he travelled to Athens, where he studied alongside his life-long friend St Gregory the Theologian of Nazianzus. When he returned from his studies in 356, he found that his mother and his sister Macrina had turned the family home into a convent, and that his brothers had also taken up the monastic life nearby. Puffed up by his secular accomplishments, he at first resisted his sister's pleas to take up a life devoted to God, but at last, through her prayers and admonition, entered upon the ascetical life.
After travelling among the monks of Egypt, Palestine and Syria, he settled in Cappadocia as a hermit, living in utter poverty and writing his ascetical homilies. A monastic community steadily gathered around him, and for its good order St Basil wrote his Rule, which is regarded as the charter of monasticism. (St Benedict in the West was familiar with this Rule, and his own is modelled on it.)
In about 370 he was consecrated Bishop of Caesarea in Cappadocia. Even as bishop, he continued to live without any possessions save a worn garment to cover himself. At this time the Arian heresy was rending the Church, and it became St Basil's lot to defend Orthodoxy in Sermons and writings, a task which he fulfilled with such erudition and wisdom that he is called "Basil the Great."
Basil reposed in peace in 379, at the age of forty-nine.
Sources: Ancient Faith Radio
---
Your proclamation has gone out into all the earth
Which was divinely taught by hearing your voice
Expounding the nature of creatures,
Ennobling the manners of men.
O holy father of a royal priesthood,
Entreat Christ God that our souls may be saved.


Troparion (Tone 1)
You were revealed as the sure foundation of the Church,
Granting all men a lordship which cannot be taken away,
Sealing it with your precepts,
O Venerable and Heavenly Father Basil.

Kontakion (Tone 4)