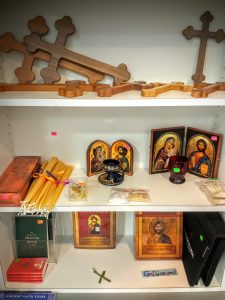 St Nicholas Bookstore tries to offer popular book for Inquires, Converts, and "Cradle" Orthodox Christians alike. We also carry home liturgical supplies and a diverse array of other useful items at or near cost. Come browse through what we have as new items arrive monthly. If you are looking for something we don't have, ask if we can get it for you in our next order.
For more in depth resources, check out these online libraries, stores and educational sites.
Ancient Faith Radio
Online audio and video programming, including two 24-hour internet-based Orthodox radio stations, live call-in programs, and an extensive list of downloadable Orthodox content.
Ancient Faith Store
Books, translations, booklets, brochures, icons, greeting cards, calendars, liturgical items, gifts, jewelry, music, and more.
Ancient Faith Blogs
A hand-selected group of writers and thinkers regularly post on matters of theology, culture, art, parish, and family life.
Orthodox Christian e-Books
An Orthodox Library at your fingertips: many topics, many authors, many publishers
Eastern Christian Supply Company
Your business will benefit various monastic and religious institutions from which we purchase as much of our stock as possible.
English Translations of the Bible
If one wishes to study the Scriptures, one of the most important things that he must do is to acquire a good translation of the text…
St. Paisius Monastery Gift Shop
handcrafted prayer ropes made by the sisters, Orthodox Christian prayer booklets and spiritual literature, CDs, prayer rings, and more.

Dynamic Horologion & Psalter
provides dynamic access to an Orthodox Horologion and Psalter

Orthodox Wiki
free-content encyclopedia and information center for Orthodox Christianity that anyone can edit
Or visit an Orthodox Church in your area.