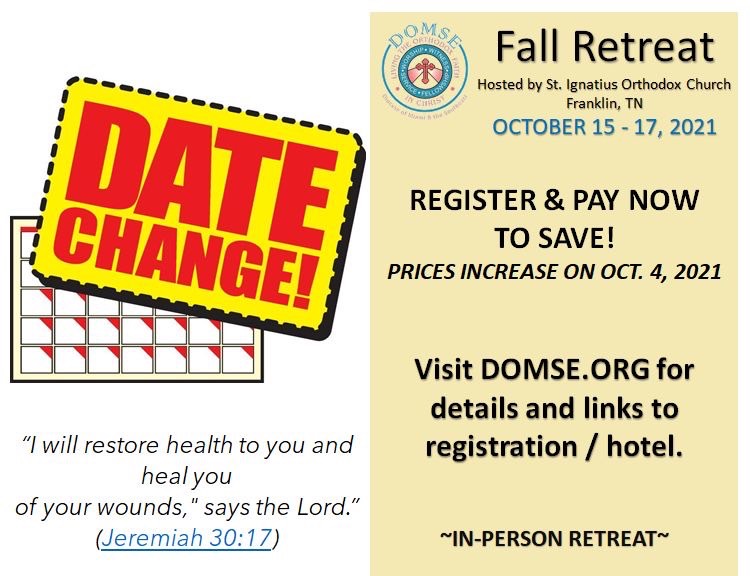 At long last, we are planning to have our next DOMSE Spiritual Retreat IN-PERSON at St. Ignatius Church in Franklin, TN!  You won't want to miss this opportunity for fellowship, edification, and education. No Zoom meetings, no recorded sessions, just a good old fashioned face-to-face Orthodox In-Person Spiritual Retreat and everyone in our diocese is invited to attend!
Due to the increasing numbers of COVID-19 cases and the concern for the safety of our parishioners, the Diocese Ministry Council (DMC) of DOMSE have decided to reschedule the Fall Retreat from September 17th – 19th to October 15th – 17th.
In making this decision, we considered the trend of the infection rate of the Delta strain of COVID-19 in the UK. It increased significantly for one month before it rapidly declined. Therefore, by rescheduling the Fall Retreat to the October date, we are hoping that we will see a similar pattern here in the US.
If you have already registered/paid for the September dates of the Fall Retreat –
Your registration/payment will be applied to the October date of the Fall Retreat.
If you are not able to attend the Fall Retreat in October, you may cancel your registration and/or request a refund of your registration payment.  To cancel or request a refund, please send an email to dmcdomse@gmail.com.
If you have not registered/paid for the Fall Retreat –
You can register here: http://tiny.cc/Fall2021Registration
The early registration and price has been extended until October 3rd.
Pricing will increase on October 4th.
If you HAVE made a room reservation at Hampton Inn & Suites Franklin Berry Farms –
If you have already reserved a hotel room at Hampton Inn & Suites Franklin Berry Farms for the September dates, you MUST call the hotel to move your room reservation. They will NOT move it automatically.  They will be able to assist you with moving the reservation at the same rate, pending availability.
If you HAVE NOT made a room reservation –
Here is a list of recommended hotels you can contact to reserve your room.  Please let the hotel know you are calling for the "St. Ignatius Fall Retreat" so that you are getting the discounted rate.
Hotel
Distance from St. Ignatius Church
HOTEL RESERVATION LINK
Bed Size
Rate per night
Hampton Inn Berry Farms
7101 Berry Farms Crossing
Franklin, TN 37064
(615) 599-3700
4.1 Miles
TBD
Queen
$109.00
Holiday Inn Berry Farms
7100 Berry Farms Crossing
Franklin, TN 3706
(615) 499-5292
4.1 Miles
TBD
Doubles
$109.00
Candlewood Suites
1305 Murfreesboro Rd
Franklin, TN 37064
615-265-0550
7.6 Miles
TBD
Doubles
$109.00
We are working on adding additional hotels to this list, so stay tuned.
We will update the list and provide direct links for reservations.
If you are having difficulty securing a hotel room, please email dmcdomse@gmail.com and we can provide you with additional hotels to contact.