ANTOUN of MIAMI and the SOUTHEAST
Sayidna Antoun was born in 1931 in Damascus on January 17th, the feast-day of his patron saint, Anthony the Great. He was educated in Orthodox primary school and then entered the minor seminary at Balamand Monastery. While a young student at the monastery, Sayidna met his lifelong friend, our late Metropolitan of blessed memory, Philip.  After completing his secondary studies, His Grace entered the Theological Academy of St John of Damascus at the monastery. Upon graduation, Sayidna was ordained to the deaconate in 1951 by Patriarch Alexander III. He was then assigned to the Patriarchal cathedral of the Dormition of the Theotokos in Damascus. While at the cathedral, Sayidna was an instructor and later dean of the cathedral school during the time he was completing his undergraduate education at Assiyat Orthodox College.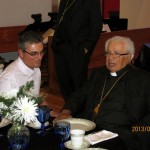 Upon graduation from Assiyat in 1957, His Grace was assigned to the cathedral of St Paul in Säo Paulo, Brazil where he served as Metropolitan Ignatius' assistant. In 1959, Sayidna left Brazil and began graduate education at St Vladimir's Seminary in New York. In 1960, he was ordained to the Holy priesthood by Metropolitan Anthony (Bashir) and graduated from St Vladimir's in 1962. Following graduation, His Grace served in pastoral ministry in Upper Darby, PA; Allentown, PA; Toronto, Ontario; and at the Metropolitan Cathedral of St Nicholas in Brooklyn, NY.  Sayidna was elevated to archimandrite in 1969 and served for many years in the chancery in Englewood, NJ and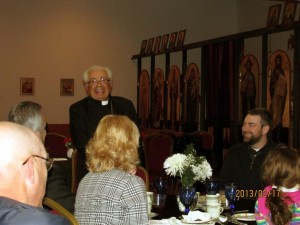 as an instructor at St Vladimir's seminary. Sayidna was elected auxiliary bishop of the Archdiocese in 1981 by the Holy Synod of Antioch and consecrated by Metropolitan Philip and Archbishop Michael, of blessed memory, along with bishops from Mexico, Syria, and Lebanon. The Holy Synod of Antioch granted His Grace the title of Bishop of Miami and the Southeast in 2003.
Sayidna ordained Fr. John to the diaconate in 1995 and he has been our bishop since 2005 when St Nicholas was transferred from the diocese of Wichita and Mid-America to the diocese of Miami and the Southeast.  His Grace has visited St Nicholas several times blessing our current church building in 2009. Most recently in February of 2013, Sayidna spent several days at St Nicholas ordaining three men of the parish to the Subdiaconate, meeting with Fr. John and the Parish Council ,and generally getting to know our community and making himself available to offer guidance. His Grace's perspective, gained through serving Christ on three continents was an inspiration to our community and he is always in our hearts and prayers.