October 2016
by: Janessa Craig, MMT, D.PSc.
Dear Friends,
I would like to share about an exciting opportunity I've been praying about. I have felt led to serve God by joining up with GoMidwife.
GoMidwife is affiliated with Youth With A Mission (YWAM) and is a group of nurses and midwives who work to train women to be birth attendants, childbirth educators, and doulas. They exist to see birth workers equipped to teach the nations and serve women during the childbearing years in rural, crisis, and developing situations. Their passion is to raise up competent midwives, birth practitioners, and educators around the world.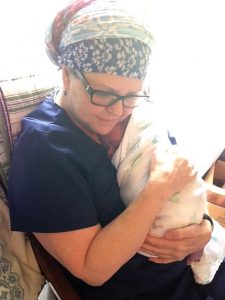 As part of my growing desire to join God in serving people in need, I will be traveling to Hawaii in February, 2017, for a month of training to prepare me for April, May and June in Togo, Africa. There they have a clinic where they serve both the local women and the needs of new birth attendant graduates who are there to get hands-on experience. My role will be one of preceptor to these women and possibly catching a baby or two. This trip will be life-changing for me as I use the experiences I've gained over the last 30 years to give to both the local women and the students.
The importance of prayer for ministry, safety, travel and that which God intends to accomplish through this opportunity is absolutely essential. Would you please participate in this ministry with your prayers? Of course, there is also a financial cost to the trip. It will be approximately $6,500. Please consider giving. Tax deductible donations may be sent payable to St Nicholas Orthodox Church.
St Nicholas Orthodox Church
PO Box 6522
Springdale, AR 72766
or
Online @
StNicholasAR.org/?page_id=569

Please indicate that your donation is for the Janessa Craig Africa Mission
I am eager for you prayer support and financial partnership in this endeavor; I greatly value your friendship and help in this venture of faith. Thank you so much.
In Christ,
Janessa Craig, D.PSc.
facebook.com/myjanessa
Janessa Craig wears many hats, she received her Arkansas midwife license in 1991 as an apprentice trained direct entry midwife. Currently she is licensed under PMAI US: Pastoral Medical Association International. This license allows her the opportunity to work with birthing families in the time honored ways of birthing traditions passed down from woman to woman over the years. Her PMA license allows her to practice legally in all 50 states and internationally. Additionally, she is a Placenta Encapsulation Specialist (PES), Master Massage Therapist (MMT) and Certified Educator in Infant Massage (CEIM).